Back Issues of glint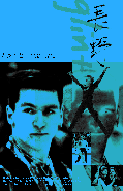 ::volume 1 issue 3
fEATURES:: the Nagano special with stories on contenders including Shae-Lynn Bourne and Victor Kraatz, rivalry of Ilia and Elvis; up-and-coming stars, skating fashion trends, the unforgettable spectacular A Tribute To Toller Cranston, and more.




::volume 1 issue 2
fEATURES:: Two Days In Marlboro: interviews with Surya Bonaly, Ilia Kulik, Romanova and Yaroshenko, Grishuk and Platov, 1997 Elvis Tour, and An Evening On Ice, G and G, and more.

::the premiere issue
fEATURES:: O! What A Year: a final lookback to one cool pre-Olympic year, the wickedest skit about Mr. Dick Button, seeing double Oksanas (for the last time!), the cutest superdeformed Japanese cartoon skaters, and more.


:back issues currently go for 2 bucks a pop in Canada and US; $3.25 if you're from overseas/foreign countries/outer space: